We're less than a week away from 4.06 Where in the World is Carmine O'Brien, and if you follow us on twitter, you may have seen great excitement for this upcoming episode in particular.
Because it's not just a episode centered on the lovely Senior Agent in charge of the team, but it's also a reunion of sorts of two actors who have played together before and have shared the spotlight. And to top it all off, this time, they are also related.
Why yes, I'm talking about Robin Tunney (Teresa Lisbon) and Henry Thomas (Tommy Lisbon).
They shared a couple of scenes in the western Riders of the Purple Sage (1996), where Henry's character discovers the injured masked bandit is actually a woman (Robin) and nurses her back to health; but they shared the whole movie in Niagara, Niagara (1997).
Robin Tunney won the Volvi Cup at the Venice Film Festival for Best Actress for her role in Niagara, Niagara.
In this independent film, Robin plays the character of Marcy, a woman with
Tourette Syndrome
, which -and I quote from the online summary- causes her to compulsively curse, flail about, and indulge in anti-social behavior. Henry Thomas plays Seth, the son of an abusive father. Both of them meet while shoplifting the same store.
This is not your usual love-story.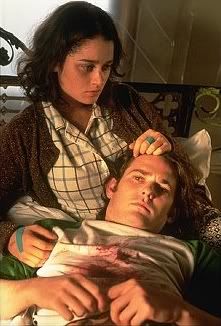 Niagara, Niagara (1997).
Both characters deeply scarred in their own way, they instantly form a connection, a bond, and decide to start a long journey towards Toronto, Canada, in search of Marcy's long time wish of having a black "You Do The Hairdo" Barbie head.
As they decide to hit the road, Marcy can't hide her tics any longer and snaps at a group of people in the street who were verbally bullying Seth, cursing and severely hurting one of them, before Seth pulls her away. That night, she tells him about her condition.
The real problem starts when they've travelled awhile, when they try to refill Marcy's prescription drugs and the pharmacist refuses to comply, as well as all the others they try to go to. Her condition just gets worse over time and things take an even worse turn when they fail to rob the drugstore to get her meds and Seth gets shot in the leg as a result.
Now, they're fugitives.
There's a lot more in store for them, but I won't tell you what exactly, as I'd be ruining what it is a truly unique film.
Venice Film Festival (1997).
I'll admit I was a bit scared before I watched it the first time, I thought it'd make me look at Lisbon differently for some reason. But Robin Tunney really turns into a whole different person while embodying Marcy. You can feel her frustration, her pain and her innocence. Henry Thomas' performance was raw as well, Seth being the ideal albeit not typical understanding companion.
Unconventional as it is, the characters had a beautiful love story.
Which is why we're so excited to see them reunited on-screen, even if they are going to play totally different characters now, fourteen years later.
We highly recommend you watch this movie before the episode airs.
.
.